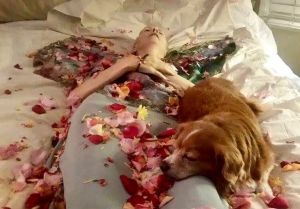 Until recently, I have been focussing on encouraging people to plan their own funerals so that those left behind do not have to worry if they are getting it right. This in itself is really important but having completed a workshop with Pushing Up the Daisies, I have realised that there is so much more that needs to be discussed and planned. What will happen after you take your last breath?
As in the case of when my son died suddenly, this was taken out of my hands by the police. I missed out on so much because there had to be an investigation, a post mortem and even his home was classed as a potential crime scene. This is the exception to the rule.
I want to die at home and after I take my last breath I want to remain there so that those who love me can take care of me. My hygiene will be taken care of by people who know me. I will be washed and dressed and laid out surrounded by flowers, candles and incense burning. Even if just for a day. This gives people a chance to visit and say farewell in a more personal way, in surroundings that are normal. They can have a cup of tea and cake and spend time chatting with me or reading to me or sitting in silence.
The training I have done has taught me how to care for a body immediately after death and I would be honoured to support people to keep their loved ones at home. This also gives them breathing space and time to set the funeral arrangements in motion.
If you would like to know more about this, please do get in touch.